Underground Chinese take-out restaurants boom in Vancouver
Authorities are at a loss as to how to manage the rise in private unregulated Chinese "sichu" restaurants
---
Private unregulated Chinese "sichu" restaurants are on the rise in Metro Vancouver and authorities are at a loss as to how to manage them.
Sichu is the Chinese name for restaurants in private home kitchens. They usually operate under the table and are promoted on social media sites like the popular Chinese social-media platform WeChat.
These kitchens have been attracting hundreds of customers, as they cater to Chinese people who want home-cooked meals without having to do the work themselves.
Sichu cooking is done by a range of people from amateur cooks to students trying to make extra money to seniors who want to be productive. The business constantly shifts and changes according to the cook's schedule.
"I started my sichu business in February 2015 and got almost 500 customers on WeChat within the first two months," said Cian Tang.
Tang, 28, sells braised food on WeChat. He runs his sichu in his apartment in Burnaby. He thinks it's the taste of his homemade food that makes him a hit with customers. "The braised food in restaurants is too sweet. Thus my friends encouraged me to sell mine."
But Sichu restauranteurs like Tang are operating outside of the rules.
According to Anna Marie D'Angelo, the senior media relations officer from Vancouver Coastal Health, the authorities are aware of this kind of operation. "These operations are not permitted and therefore not inspected," said D'Angelo. The authorities only become involved when there are public complaints or foodborne illness.
So far, no one is complaining about Tang's food, which is most popular with students in Metro Vancouver. It appeals because of the flavor and the convenience.
Bill Lu is a regular customer. He's an SFU student and he sees sichu as a preferable option.
"It's so convenient when I don't have time to cook," said Lu. "Sichu also benefit those who can't cook. I order from sichu several times a month. But some of my friends almost order every day. Sichu also serve a greater variety of food than restaurants do."
Lu said it's hard to find spicy crayfish in a restaurant in Metro Vancouver, but customers can find specialty food online.
Spreading the word online
WeChat is a Chinese social media app used by 800 million people worldwide. Chinese people use it as a gateway to everything from food to business deals. Sichu chefs use WeChat to advertise their menus, ranging from hot pot to dessert.
Customers add sichu's WeChat accounts as friends and then scan advertisements. Orders are placed by sending messages. Food is cooked in purveyors' home kitchens and later delivered to or picked up by customers.
Tang starts cooking at 6 p.m. An hour later, he delivers the food to customers in Burnaby. He doesn't charge delivery fees but he does require a minimum $20 order for deliveries within eight kilometres and $30 for deliveries between eight and 15 kilometres. Tang prefers cash at the door but he will accept email transfers.
Tang's home restaurant has reached 1,718 customers on WeChat in less than two years. However, he is not devoting all his effort to this business. He tries to limit his sichu work because he is hoping to start his own restaurant one day.
"This is not a long-term business," said Tang. "I plan to open a real restaurant. So do lots of other sichu restauranteurs. Running sichu business can test products and accumulate customers for real restaurants".
Tang accepts no more than 10 orders each day and refuses to serve more. The average revenue of his restaurant is around $300 per day, which is three times the cost of the ingredients.
Challenges in regulating home cooking
There are legal concerns when it comes to running a home kitchen.
Sichus have neither food safety certificates nor business licences, which are required by law when people sell food. The City of Vancouver doesn't license home-based food operations, as there are no rules in place to ensure food safety.
"Buyers should beware," said D'Angelo. "Any such operation applying for a City of Vancouver licence would also be referred to [Vancouver Coastal] Health and this would mean complying with the Food Premises Regulation."
According to Tang, people run sichu by their own standards. Tang buys all his ingredients from the market in the Crystal Mall in Burnaby two to three times a week. He said he doesn't store much at home because he's concerned about shelf life.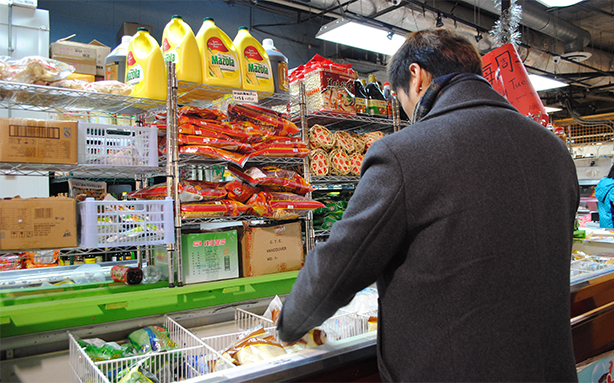 Tang said he cleans his kitchen regularly. "It's hard to wash up dishes immediately sometimes when I am too busy cooking. I would never reuse them before washing and I will do the cleaning after serving all the orders."
The food-safety issue of sichu doesn't concern Lu. He distrusts food in Chinese restaurants more because of food scandals.
"Food from sichu might even be cleaner and safer than those from restaurants as it is cooked at home. I don't think it would be so dirty at home," said Lu. "At least none of my friends got sick because of food from sichu. Neither did I."
As for other regulations being evaded, most sichu only accept cash to avoid paying taxes as there's no record of income other than some e-transfers. Some customers even use Chinese currency through WeChat. Tang prefers cash as there is no record of the transaction.
Tang's plan is to continue in his home kitchen for now.
"I'm looking for a location to open my restaurant, but there are some difficulties to find one now," said Tang. "I'll keep looking while maintaining my sichu business for now."